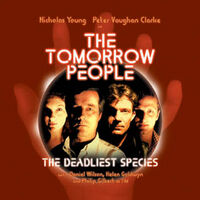 The Deadliest Species was the second story of the Big Finish range of audio dramas. It was released in September 2001, consisting of 3 episodes (all on 1 CD).
The Galactic Federation is at war with the rapacious Sorson Empire, and losing. Two Federation ambassadors, negotiating a peace treaty, have been kidnapped by the Sorsons. One, however, has escaped, and joined forces with the anti-Sorson rebellion on the planet Desh. From there, he heads back home, to Earth, and his friends John and Tim of the Tomorrow People, pursued by the vengeful Sorsons.
The ambassador in question is Stephen Jameson, one of the very first Tomorrow People. But can the Deshian rebel he has befriended by trusted? Of are the secrets she carries more deadly than even Stephen realises.[1]
References
Edit
Ad blocker interference detected!
Wikia is a free-to-use site that makes money from advertising. We have a modified experience for viewers using ad blockers

Wikia is not accessible if you've made further modifications. Remove the custom ad blocker rule(s) and the page will load as expected.