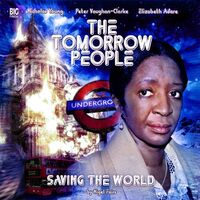 Saving the World would have been the first story of the sixth series of Big Finish range of audio dramas. Although recording on the story was completed, it was never released due to the loss of Big Finish's license to produce Tomorrow People fiction.
Ad blocker interference detected!
Wikia is a free-to-use site that makes money from advertising. We have a modified experience for viewers using ad blockers

Wikia is not accessible if you've made further modifications. Remove the custom ad blocker rule(s) and the page will load as expected.